This page was last updated on
30th Mechanized Brigade named after Prince Konstanty Ostrogski (30-та окрема механізована бригада) is a mechanized brigade of Armed Forces of Ukraine and successor of 30th Tank Division of Soviet Army. The brigade was one of the five brigades, which were capable of fighting after the annexation of Crimea. 30th Mechanized Brigade was deployed to the border with Crimea and later dispatched to defend Savur Mohyla. They were also deployed to Marinka and later Debaltsevo.
Ukraine and self-proclaimed Luhansk and Donetsk People's Republic swapped prisoners on December 29. They were later transported to Kyiv to meet relatives.

1st Mechanized Battalion
The first mechanized battalion of 30th Mechanized Brigade.

2nd Mechanized Battalion
The battalion was formed in June 2014 as 2nd Territorial Defense Battalion "Goryn". In 2015, the unit was reformatted as 2nd Mechanized Battalion.

3rd Mechanized Battalion
The third mechanized battalion of 30th Mechanized Brigade.

Tank Battalion
Tank battalion of the brigade equipped with T-64B and T-64BV tanks.

Artillery Group
Brigade artillery group equipped with 2S1 and 2S3 self-propelled artillery vehicles.

Reconnaissance Company
Brigade scouts. The unit is equipped with BRDM-2s.

Anti-Aircraft Company
The company provides protection against danger from the air. It's equipped with 2K22 Tunguska and 2K35 Strela-10.

Support units
This includes all rear elements such as engineers, communication, medics, and material support unit.
MM-14
The camouflage was officially adopted as standard camouflage of Armed Forces of Ukraine in 2014. The semi-arid, with the addition of digital pattern, works well in Ukrainian nature.
T-64B
Type: MBT | Quantity: 4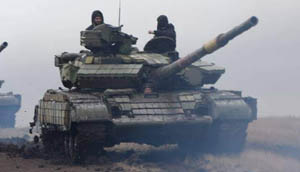 T-64BV
Type: MBT | Quantity: 8
BMP-2
Type: IFV | Quantity: 20+
BMP-1
Type: IFV | Quantity: 4+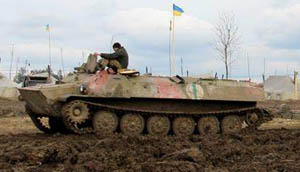 MT-LB
Type: APC | Quantity: 5+
MT-LBu
Type: APC | Quantity: 3+
BRDM-2
Type: LAV | Quantity: 2+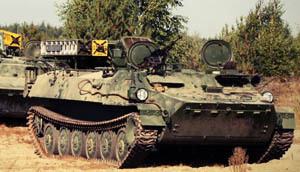 2K35 Strela-10
Type: AA | Quantity: 2+
2K22 Tunguska
Type: AA | Quantity: 8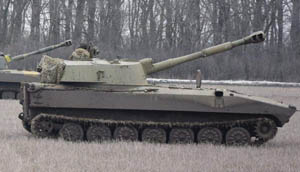 2S1 Gvozdika
Type: Artillery | Quantity: 18
2S3 Akatsiya
Type: Artillery | Quantity: 18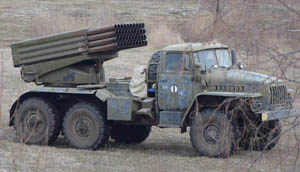 BM-21 Grad
Type: Artillery | Quantity: 5+
The border
12 June – 8 August 2014
An operation to restore control of the border with Russia was initially successful but Ukrainian forces were forced to retreat due to heavy casualties and Russian artillery attacks.
Marinka
4 August 2014 – today
The town was liberated by Ukrainian forces in August 2014. Separatists launched an offensive in 2015 and captured more than a half of the town before Ukrainian reinforcements pushed them back to original positions.
Debaltsevo 2015
1st January 2015 – 18th February 2015
Russian forces launched an offensive to capture important railway crossroad, the city of Debaltsevo. Ukrainian forces had not enough manpower in the area and they had to withdraw.
Manpower
Equipment
According to preliminary data, the unit lost the following equipment:
~50 BMP-2 and 5 BMP-1
~3 T-64 tanks
At least 1 2S3 Akatsiya